George Trail Translations was set up by George Trail in 2008. George has a BA French and German from the University of Kent between the years of 2001-2005. This included studying for a year in France at the University of Poitiers.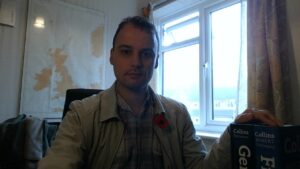 After finishing Kent University, George went on to undertake a postgraduate level in translations at the University of Portsmouth in 2006. George decided to set up George Trail Translations in 2008 as he wanted to use his distinguished language skills to make a living and provide accurate translations to people who needed it.
George operates from his home base which allows his to carry out translations in a tranquil environment, helping him to ensure that all translation work is carried out accurately and efficiently. George specialises in translating documents and information from both French and German to English.
He specialises in translating information form Word, Excel, PowerPoint, and PDF. In addition to this he can also offer proofreading and transcription work. George is also currently expanding his services to offer subtitling to a range of industries. It's at the heart of George Trail Translation to ensure accuracy, diligence, patience to his clients. He has a desire to be helpful in all aspects relating to the services that he offers.